The ideal shipping policy of an online store is free delivery and free returns, isn't it? If you have run an online store for a while, you should know that online shoppers are not that easy to please, especially with the presence of omni-channels and mobile shopping. In this article, I will go through 4 best practices for empowering shipping experience of an online store.
1. Free or discounted shipping
Offer free or discounted shipping option has already become a norm in the ecommerce industry - UPS 2013 study shows that 76% of online shoppers expect to see free shipping options at check-out process. Stores generally offer free Ground shipping only for orders reach minimum spending thresholds and charge a flat fee otherwise.
However, ecommerce leaders like Zappos offer free shipping regardless the order size, and Bonobos even upgrades your shipping option from Ground shipping to 2-day shipping for orders. Online stores also often use free shipping as a promotion tool to encourage more sales, e.g. free shipping on labour day.
Examples of shipping policy (15 Sep 2014)
$5 flat-rate shipping & free shipping on orders of $150+ - Jcrew.com
FREE for orders over £15.00, otherwise £3.00 - ASOS.com
FREE Next Business day shipping, with no minimum order - Zappos.com
Free Ground for Orders under $275. Free 2-Day for Orders $275 and over. - bonobos.com
FREE GROUND SHIPPING ON ALL ORDERS - TODAY ONLY! - Levi.com
2. Multiple delivery options
While providing free ground shipping is key, over 67% online shoppers expect stores to providers several delivery options if they pay for an additional fee, according to UPS. And instead of hiding the shipping cost or showing it at the last step of checkout, more than 50% of shoppers prefer to see estimated shipping costs and delivery dates early in the checkout process.
Offering free store pickup is also a new trend when it comes to omni-channel shopping - not only it saves the shipping fee for retailers, but increases likelihood for consumers to shop with a retailer. Sears.com or Kmart.com recently launched the free store pick up service of 2000+ locations.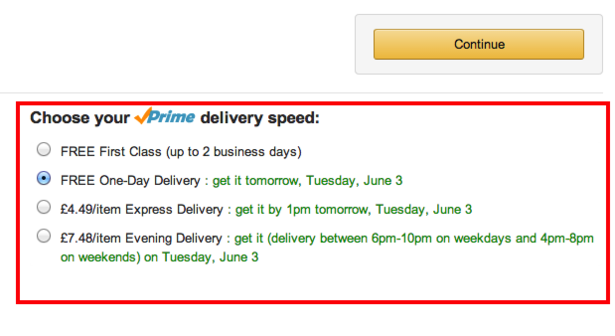 It is more tricky for international shipping. While it is almost impossible to provide a precise estimate of delivery time for international delivery service, online stores tend to give a delivery time range (X to Y business days) for specific countries.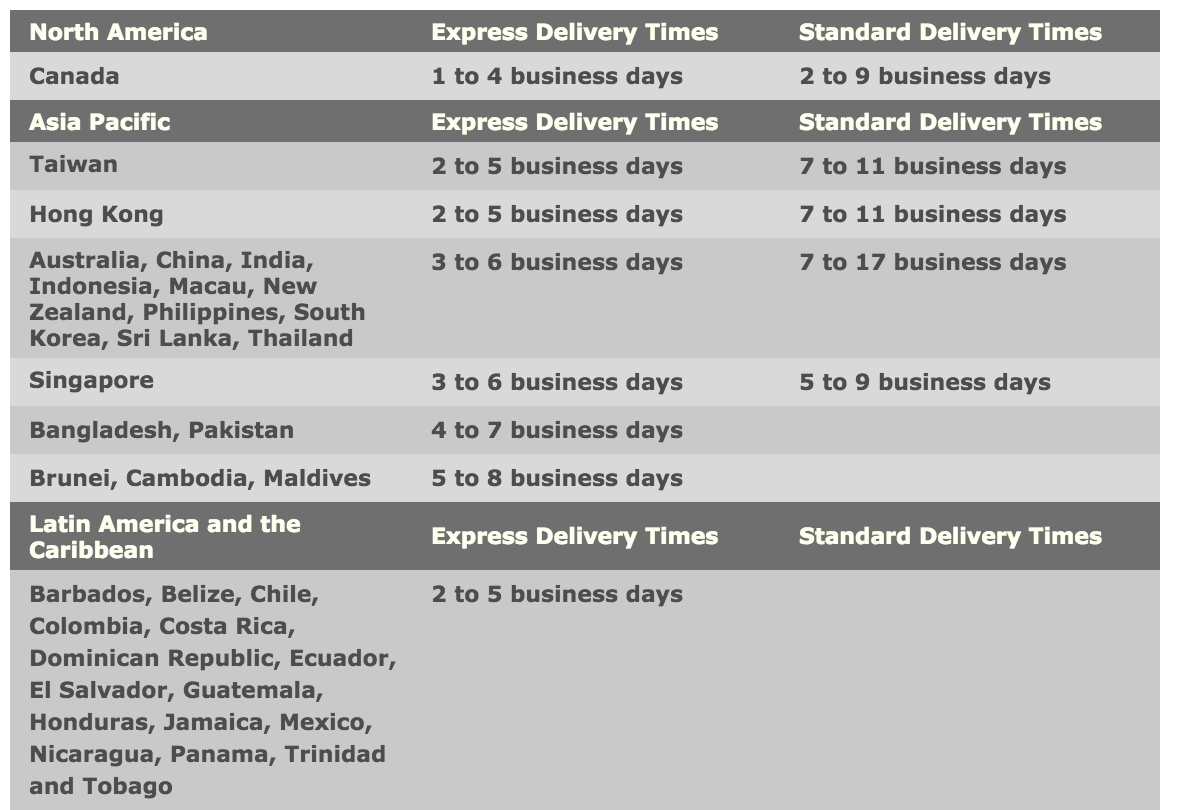 3. Proactive delivery updates
Talking about standard, it is almost a must for online stores to choose a trackable delivery solution, and provides customers a tracking number with an email containing a tracking link upon fulfillment. So...what's next?
UPS 2013 study indicated that over 60% of shoppers think it is essential for stores to have for the ability to track shipment status directly on the retailer's website; over 50% of shoppers think it is important to receive delivery updates when the package will be delivered the following day and when it is delivered.
When reviewing on shipping experience of different online stores and market places, not many have met user expectation on tracking service. Amazon has done a great job indeed - instead of sending customers tracking numbers, they include a direct tracking link in the delivery notifications for customers to see the tracking results at Amazon.com. What's best is that Amazon also offers the same tracking experience via their mobile app. Customers are clear if the shipments are in transit, out for delivery and delivered, and for Amazon, customers come back to the store again. What's more? In two days after delivery, I received an email asking about my experience with the purchase.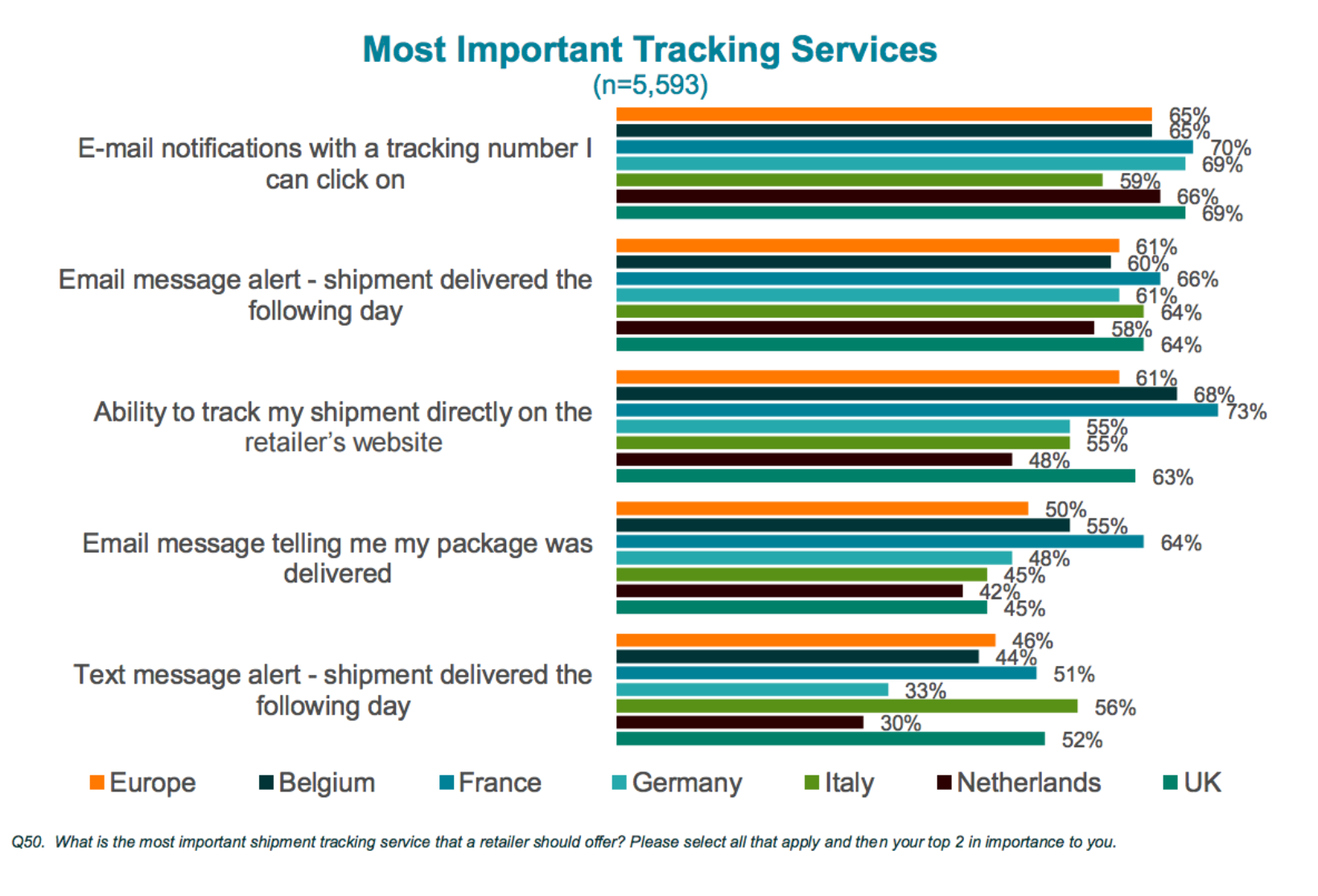 4. Hassle-free Returns policy
62% of online shoppers have returned a product purchased online, according to UPS study 2013. Similar to free shipping, offering free returns policy or no-question-asked returns policy is no longer a differentiator but just an expectation. To stand out from the standard, online store needs to compete on the easiness of returning an order, quick refund upon success return, and allowing longer time to return an item.
Prepaid label, ship on your own or return to stores
Top online retailers usually offer 3 ways of returning orders: Prepaid return shipping label prepared by online store, shipping on your own or returning to a store. Top online stores usually include prepaid label in the original delivery box together with the Return/Exchange Form (RMA form) - saving customers time on requesting and printing out the documents. While some retailers, like Capezio.com, offer free returns policy, many top online stores require customers to bear the cost of the prepaid label, ranging from $5 to $7.50, which will be deducted from the refund amount. Alternatively, online stores like Levi's also allow customers to use any trackable shipping method to return an order. Retailers having physical stores, e.g. Victoria Secrets, generally support free returns to stores to provide seamless omni-channel shopping experience.
Quick refund
47% of shoppers note that immediate refund once shipment is received back by the retailer is a key factor of best return experience, according to UPS study 2013. In order for online stores to refund, stores need to conduct a quality check, and may send back items to warehouse if items are returned at stores. In general, retailers generally say it takes 1-4 weeks for refund from the date of store receiving the returned items. Of course customers can alternatively ask for an exchange of items, which will then take another 5-7 days.
Allowing longer time to return?
Retailers have different policy on the deadline for customers to return an item. Apple allows 14 calendar days from the date of receiving items while Macy's allows a life time return after purchase.
You have 14 calendar days to return an item from the date you received it. - Apple.com
Simply return the item or items to us in their original condition* within 14 days of receipt. - TopShop.com
We will gladly issue a refund for the value of the merchandise or exchange your items within 90 days of purchase. - VictoriaSecret.com
Returns can be made — for free — at any time after purchase - Macy's
What's next?
Do you have other suggestions on providing better shipping policy? Have you seen any shipping policy that has exceeded your expectation? Drop us a line below and love to hear your thoughts!