No matter how good your ad copy is, thousands of equally great promotional messages are fighting for your target audience's attention, especially during Black Friday and Cyber Monday (BFCM) sales.
You need something that will convert them before their eye falls on your competitor's deal.
Thankfully, two related elements can make your offers stand out during peak season: a hyper-personalized approach and a compelling buying experience. By paying attention to these two pillars, you'll boost conversions and the average order value (AOV) and win loyal customers who will return to you for years to come.
Read on to learn how to make the most of your BFCM traffic by using AI-driven personalization to maximize returns.
How to improve conversion rates of your BFCM campaigns
The following tactics will help you maximize the ROI of your BFCM campaigns and convert more prospects into customers.
Tactic #1: Use smart product recommendations to drive conversions
During BFCM, your competitors will likely bombard your target audience with offers across all digital channels. To stand out, you must display something that appeals to them. This is where personalized product suggestions come in.
AfterShip Personalization lets you display AI-powered product recommendations to your customers, enhancing their shopping experience during BFCM and beyond. It enables you to upsell and cross-sell right at checkout with AI-powered widgets promoting dynamic bundles, Frequently Bought Together (FBT), new arrivals, and more recommendations based on rules.
Real-World Example: One of the easiest ways to put the right recommendations in front of your visitors' eyes is by adding complementary products to the cart page—like in the example below. Many retailers adopt this style of recommendation because it can be a very effective method of boosting revenue during BFCM. It works because shoppers who've already added something to your cart are likelier to buy additional items.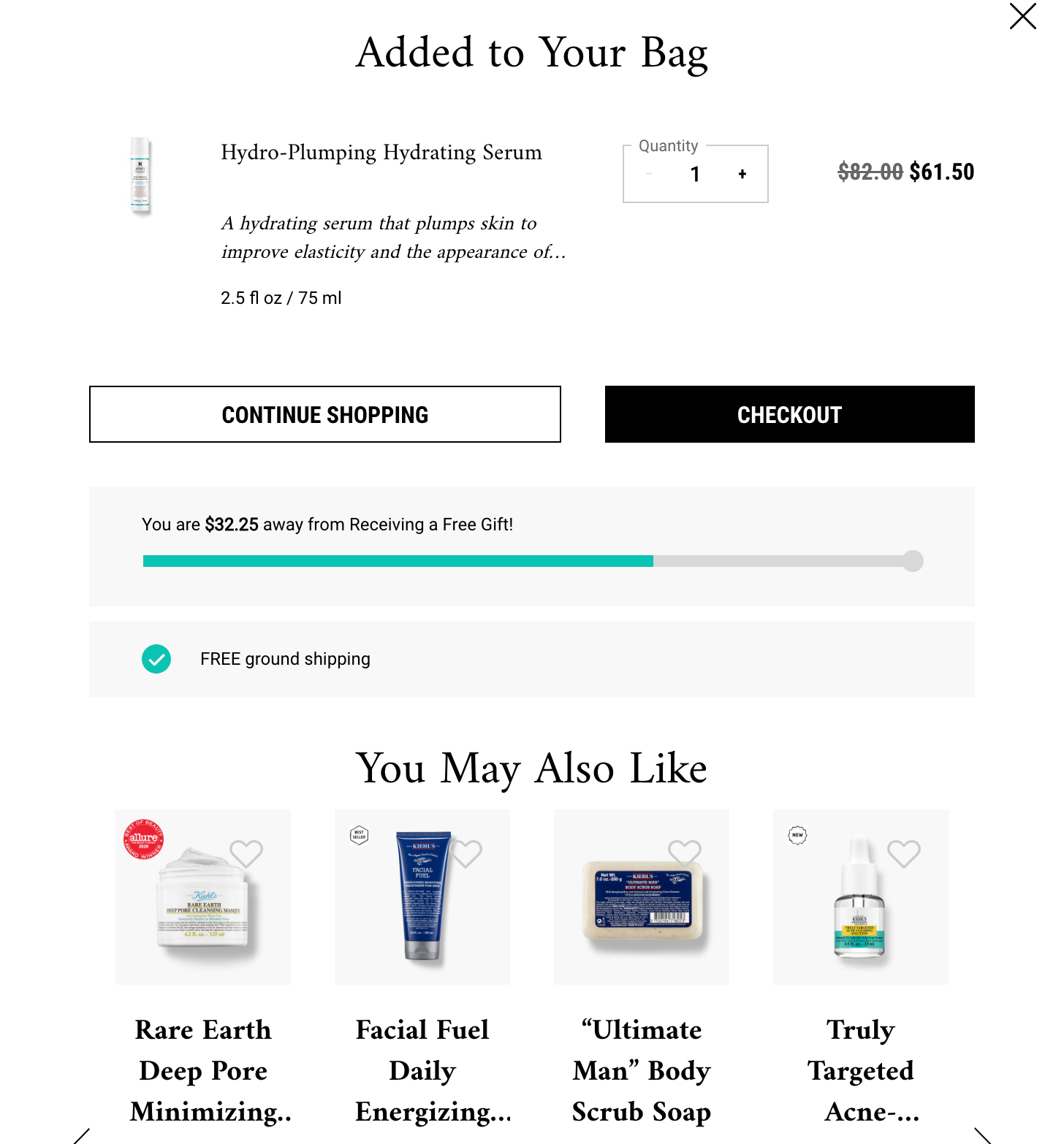 But a static list of recommendations is unlikely to be most effective. Instead, with a deeper understanding of your audience's behavioral patterns, you can define the types of promotions that match the interests of different audience groups based on the items they interact with.
To set up stronger personalized recommendations and give you greater control over your promotions, AfterShip Personalization allows you to define custom merchandising rules.
Let's look at the two most frequent use cases for custom merchandising rules:
Use Case #1: Implementing precise targeting criteria to choose the best algorithms for different types of products.
Elegoo, a leading manufacturer of 3D printers and accessories, uses AfterShip's custom merchandising rules to set up different types of recommendations for consumables matching different printer models. That way, buyers only see recommendations relevant to the product they're interested in.
They also use the FBT algorithm when shoppers only have 3D printer consumables in their cart. In this case, they let AfterShip's AI algorithms display the most relevant product recommendations based on the store's purchasing trends. Based on their shopping cart, buyers are shown recommendations most likely to appeal to them, leading to more conversions.
Use Case #2: Optimizing recommendations to meet your business objectives.
Increasing order values and conversions is often a primary goal for merchants, but it's not the only one. Elegoo also uses AfterShip's merchandising rules to pin clearance products to the top to clear excess inventory easily.
This helped them optimize the conversion results of underperforming products to cut excess inventory and cut carrying costs such as storage fees, insurance, and depreciation.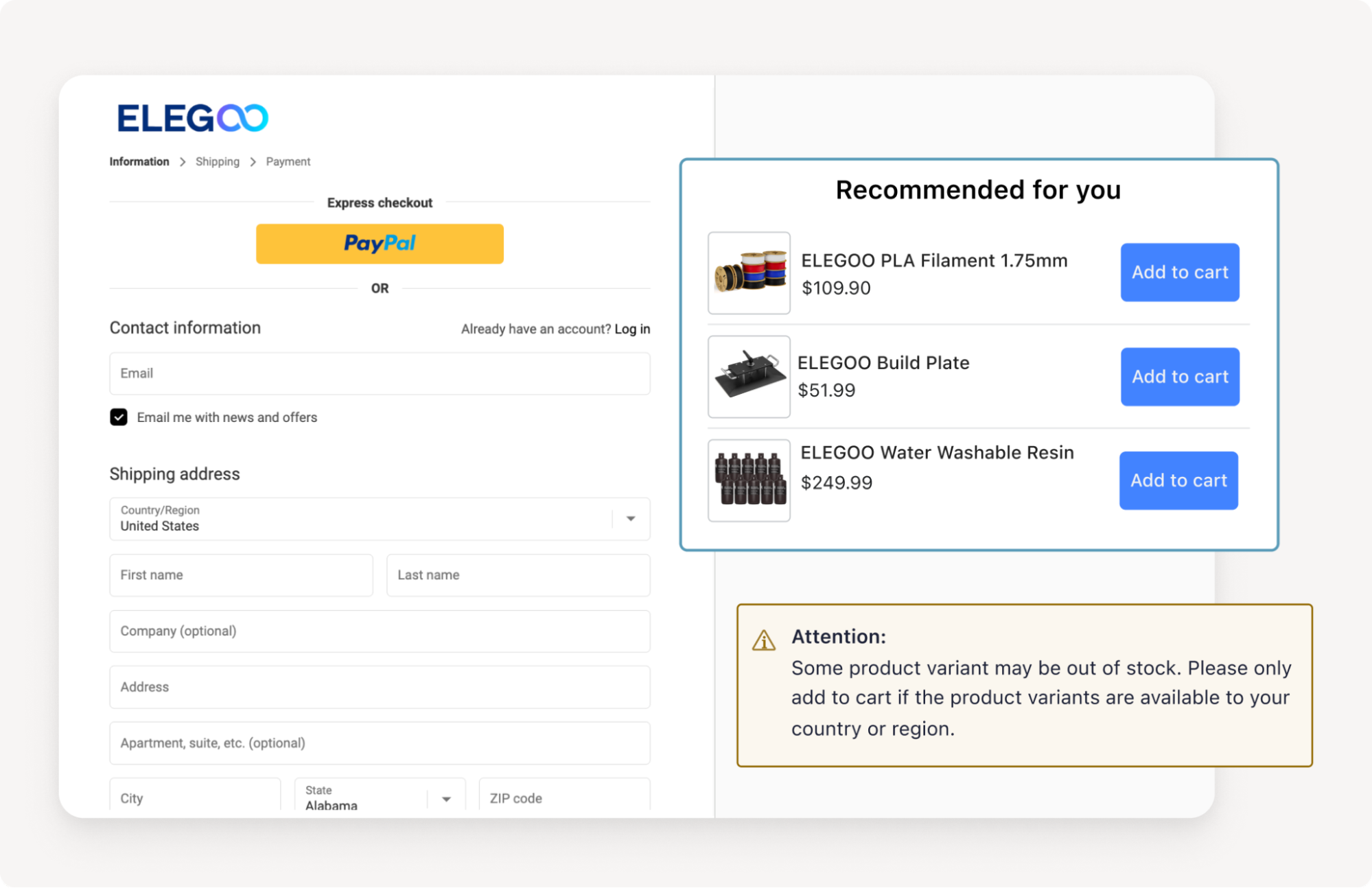 After implementing AfterShip Personalization, Elegoo has seen a 6.4% conversion rate and a 4.5% increase in total revenue.
"AfterShip Personalization's smart recommendations help us promote printer and accessory bundles at the right time and promote clearance items at checkout to boost sales." - Kevin Wang, Vice President and Director of Operations
Tactic #2: A/B test your upsell strategies
So, how do you know which product recommendation algorithm works best for your BFCM sales campaign? A/B testing is the answer.
Since BFCM only lasts for five days, you need to act fast. Use AfterShip Personalization's A/B testing feature to target different audience groups with different product recommendation strategies and identify the most effective one. The tool lets you A/B test any key touchpoint, such as the homepage, product, cart, checkout, thank you, and post-purchase page.
Use Case #1: Testing the effectiveness of product recommendations.
Display personalized recommendations on version A of the checkpoint page and disable personalization on version B. This way, you have specific data that helps you decide whether your current product suggestions help to increase conversions or distract buyers from completing a purchase.
Use Case #2: Comparing types of product recommendations to maximize conversion rates.
Enable different product recommendation strategies on version A and version B to determine which one converts better. For instance, in version A, you may implement the FBT recommendation strategy, suggesting complementary products based on historical purchase patterns. In version B, you could showcase new arrivals, enticing buyers with the allure of trending items.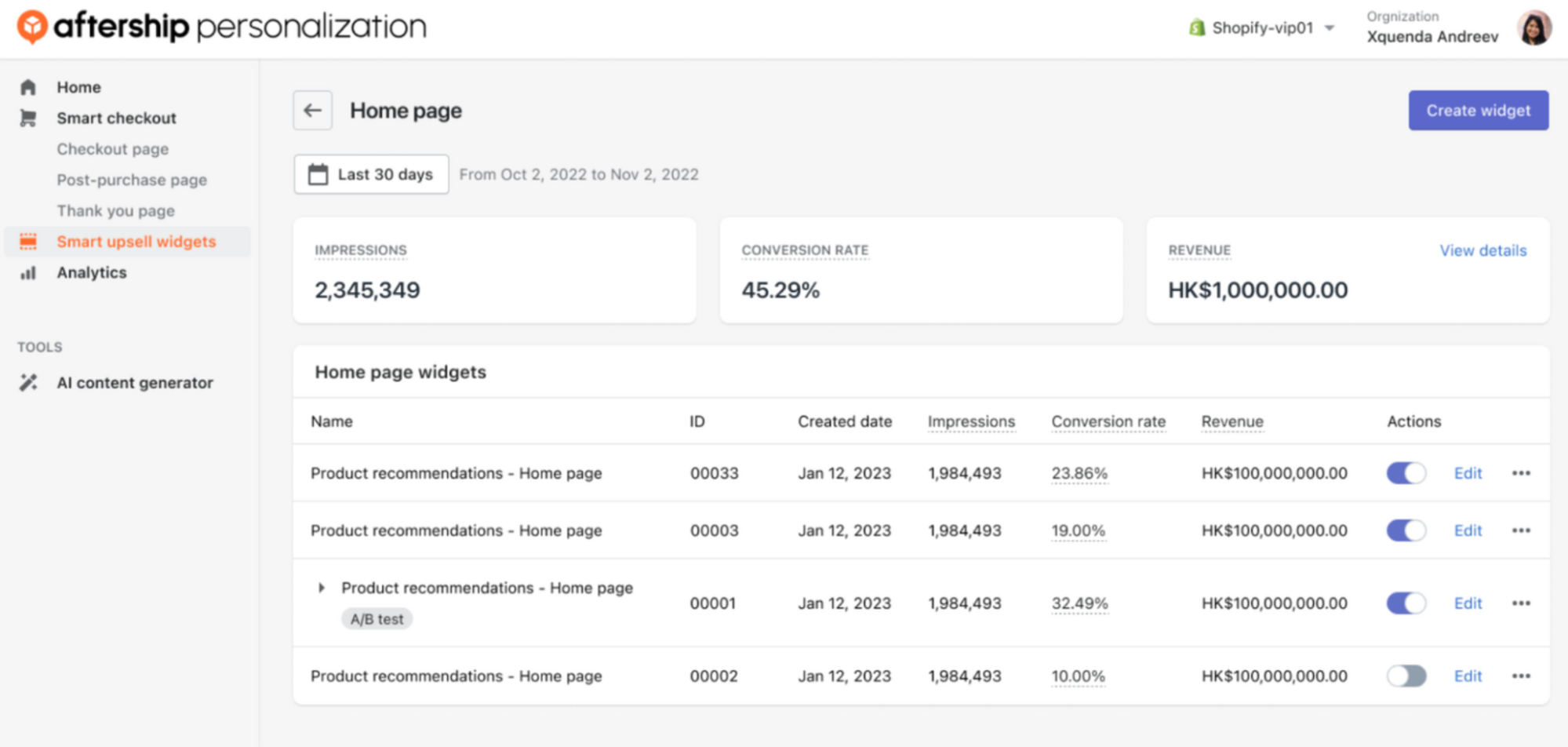 When you determine the strategy that drives the highest conversion rates, implement it across your BFCM campaign to maximize performance.
Tactic #3: Enrich your product cards with at-a-glance ratings
BFCM shoppers often have limited time to make purchasing decisions due to the time-sensitive nature of the deals. Prominently displaying product star ratings builds trust with potential buyers. Ratings act as social proof, reassuring customers that they are making a wise choice, even in a hurry.
If you're a retailer, you can quickly collect ratings and reviews from the web. If you sell your own products, a review platform will help (or, if you're already an AfterShip customer, you can do it right on the platform). When ready, put these ratings and/or reviews in the most prominent positions on your product pages or cart page with the help of AfterShip's widgets.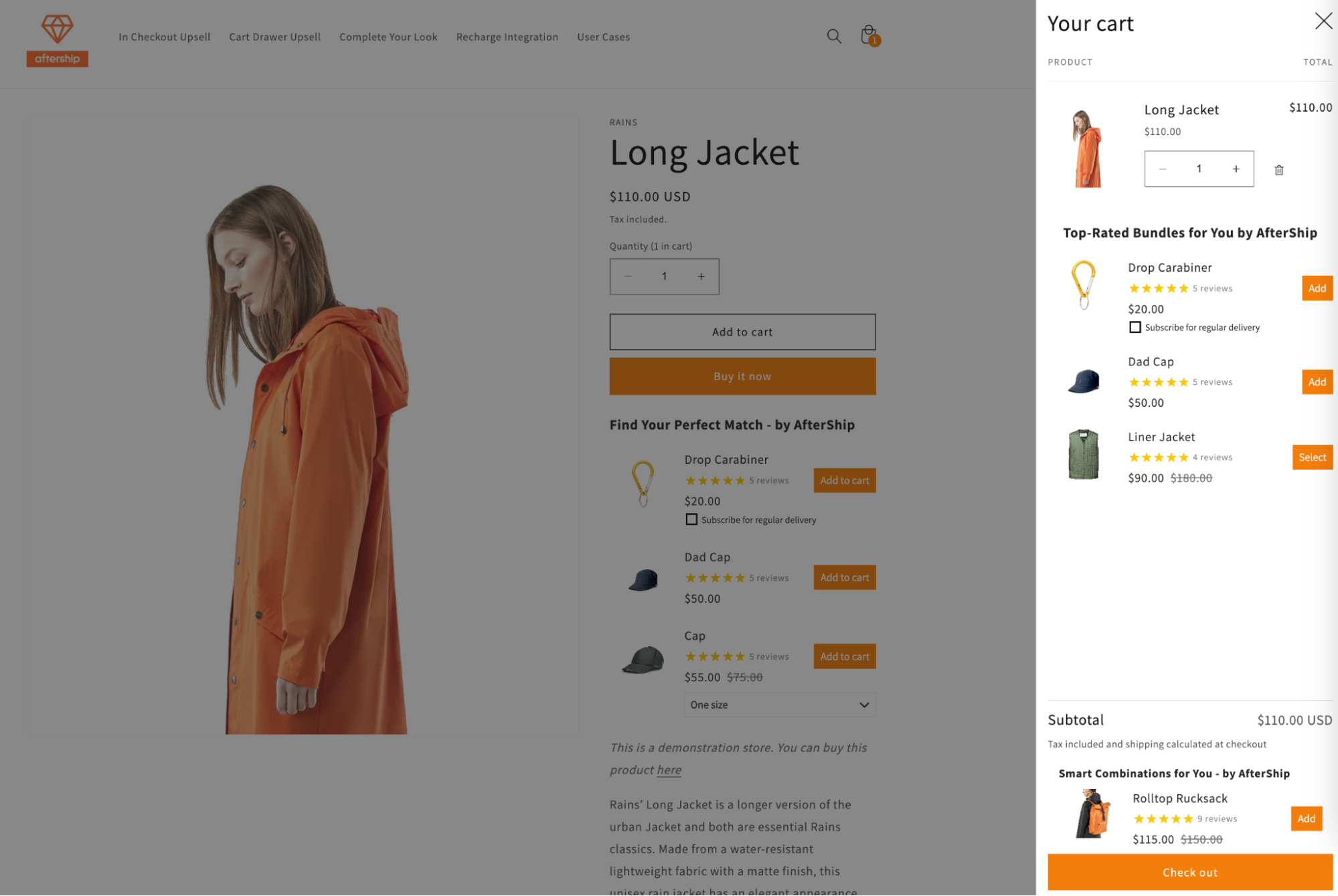 Tactic #4: Add custom elements to the checkout page to increase conversions
To further instill confidence in your customers during the discovery and checkout process, add trust signals to your buyer flow in the form of custom badges and banners.
Here are some examples of trust badges you can use to boost BFCM conversions:
Trusted seller
Lifetime guarantee
Free shipping
Third-party endorsements
Payment options
Custom banners are personalized messages displayed to buyers at checkout to improve conversion rates. They may offer promotions like exclusive discounts and free shipping or include critical information such as changes in shipping times or coupon invalidity.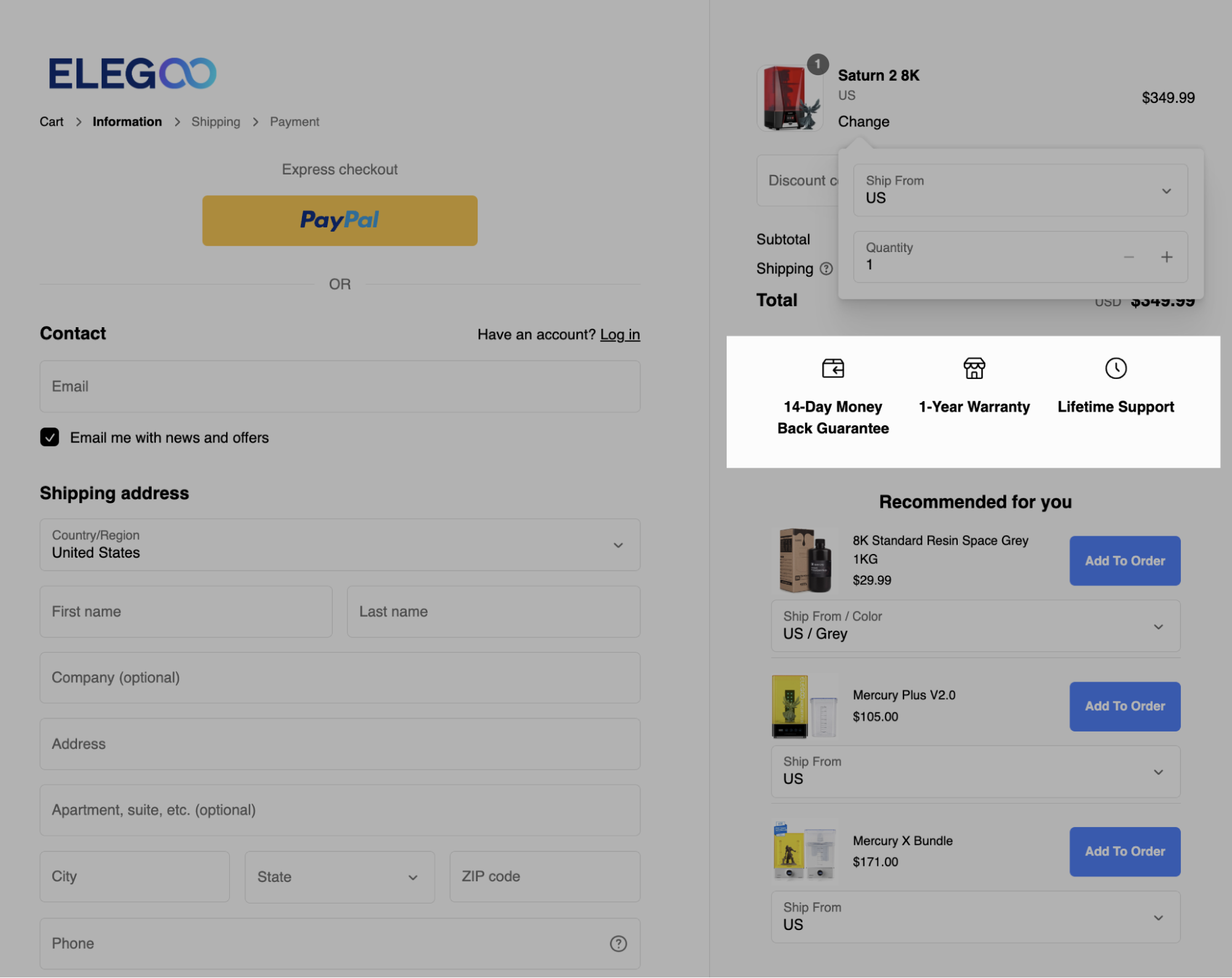 You can set up a custom banner in the Checkout page section in the AfterShip Personalization admin. From there, define rules and conditions for displaying the banner—like the cart value, number of products in the cart, date and time, etcetera.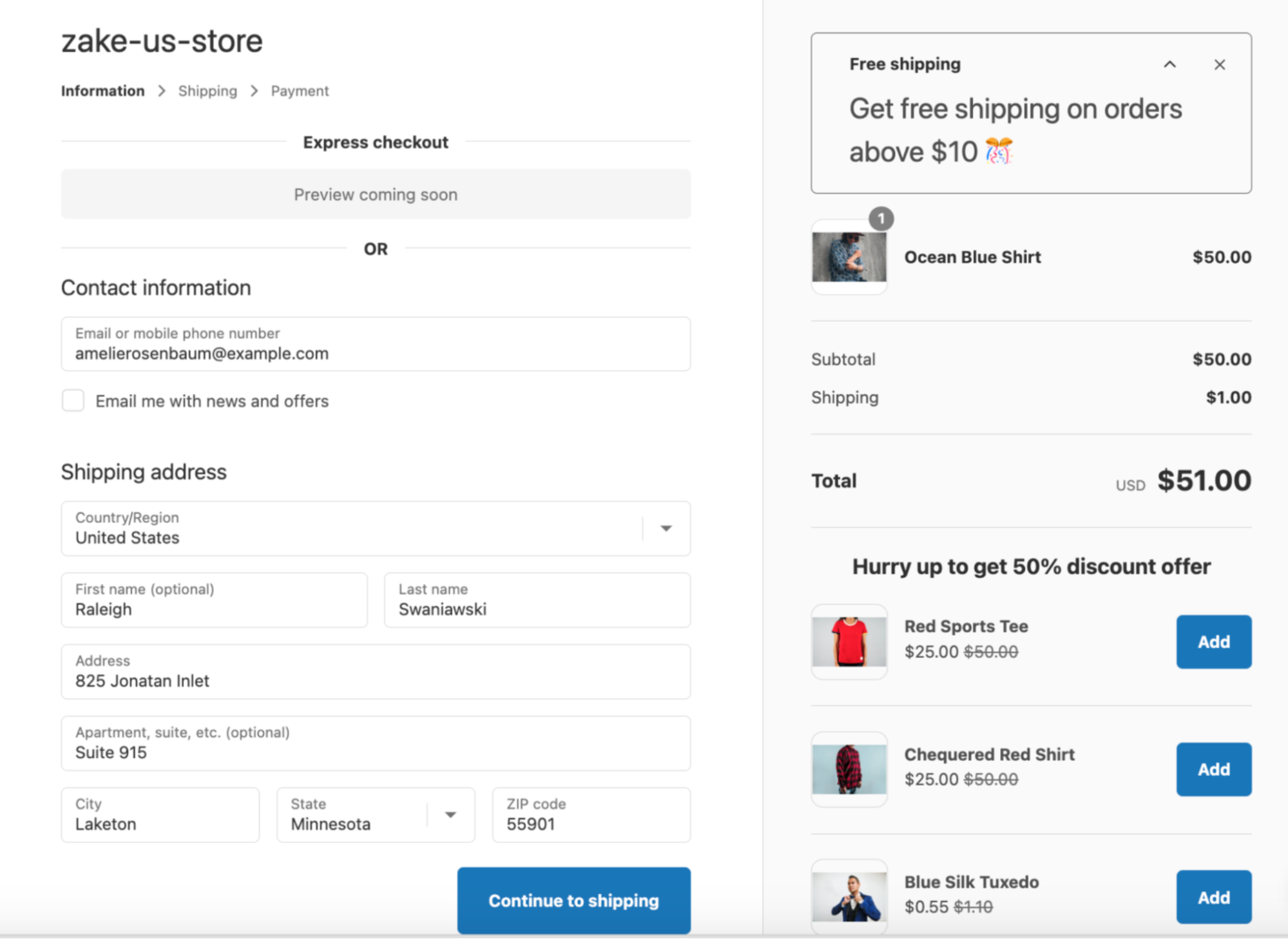 Personalize your buyer journey to boost BFCM conversions
BFCM is the best time to win new audiences and upsell the existing ones, tailored recommendations can make a real difference during the peak season. With AfterShip Personalization, you can reach your potential buyers with the most relevant offers and boost your campaign conversion rates effortlessly.
Want to see AfterShip Personalization in action? Book a demo today to explore potential use cases and benefits of AI-powered personalization for your business.