Postmen is a multi-carrier shipping software and API that powers easy integration with USPS, UPS, FedEx, DHL, China Post, TNT, and 60+ other couriers.
Adding to its globally expanding network of couriers, Postmen is thrilled to announce its official partnership with one of the rapidly growing global brands in the logistics and transportation industry, Aramex.
Aramex is a UAE based comprehensive logistics and transportation solutions provider, nestled centrally at the crossroads between East and West to provide customized logistics solutions including express courier delivery, freight forwarding, logistics, supply chain management, e-commerce, and record management services to the Middle East and other emerging economies.
Effectively reaching more businesses and consumers regionally and globally and facilitating wider, global trade in an ever-changing world, Aramex's global network of domestic-focused logistics companies and technology sourcing in the field of eCommerce have enabled them to carry out effective and efficient last-mile deliveries.
Set up your Aramex account with Postmen
Postmen streamlines the shipping process for online retailers via easy integration with 60+ couriers, shipping rates calculation, and certified label generation. Its partnership with Aramex will not only automate the shipping process for the merchants and shorten fulfillment time for Aramex international shipments but also minimize the shipping costs. How?
Set up your Aramex courier account with Postmen and get 10% off on your shipping rates right away.
Log in to your Postmen account > Couriers > Add account > Aramex
Enter required details > Submit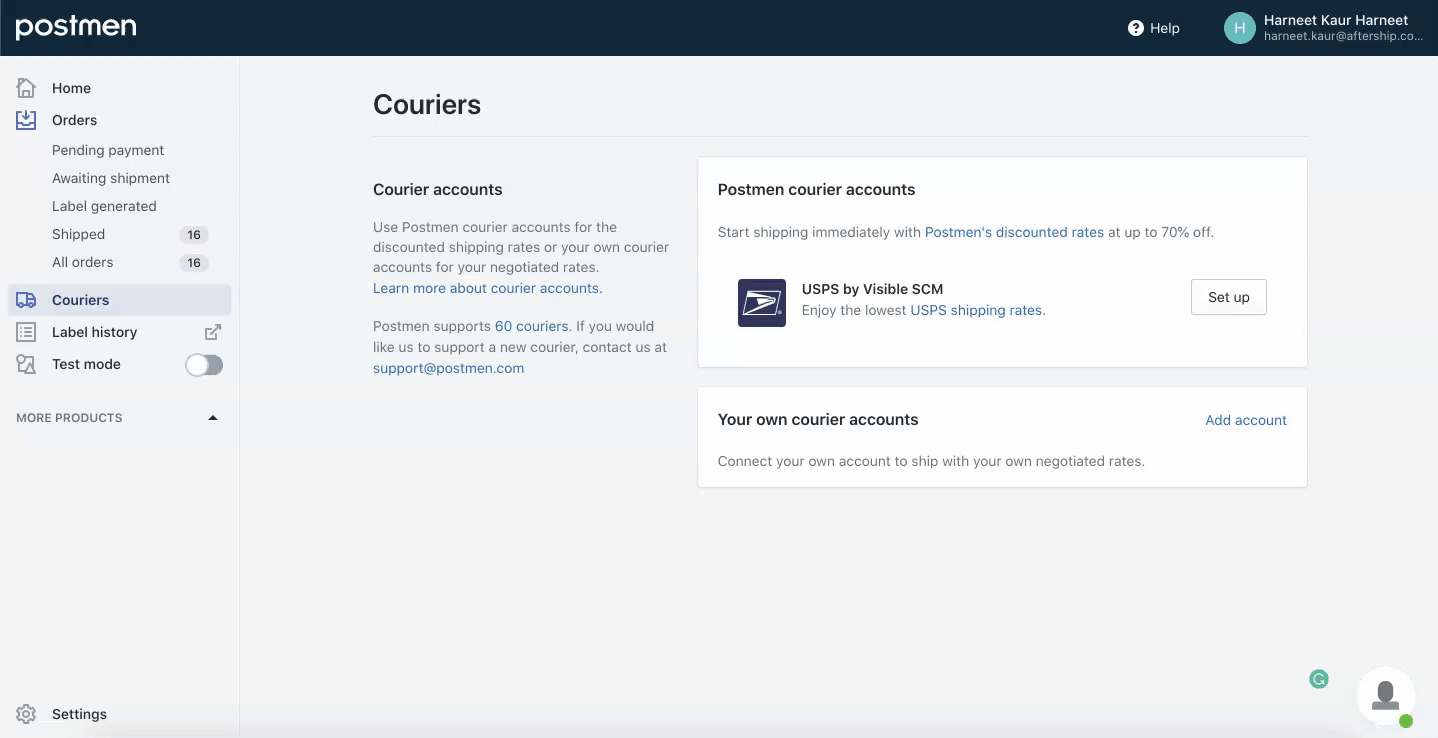 Pay only for what you ship. Postmen doesn't just give you a one-time account creation discount. Postmen enables you to ship packages at the negotiated rates based on the order volume from the second month.
Save and ship!
Fill the form and get the discount
Fill Postmen - Aramex US Account application form to avail the 10% off discount. It will not take you more than a minute to fill the form.
Aramex's account manager will contact you once the application form is submitted. Once the information has been received and completed correctly, Aramex will check and approve the request within 3 working days.
Once the request is approved, the discount will be automatically applied to the shipping rates upon label generation for your Aramex international shipments.