Picture this... It's Black Friday, and your customers, spurred by ticking-clock discounts and a healthy dose of FOMO, are loading items to their carts with the intent to return undesired items later. They might even be buying multiple versions of your products or different styles and sizes, planning to keep only the ones they like—an increasingly common consumer practice called wardrobing or bracketing.

If you're an experienced merchant, you're already braced for a surge of returns after Cyber Monday. You know you need a way to turn some of those returns into exchanges to minimize losses. And maybe you've even hired staff or set up automation to help you deal with the holiday rush.

You already know that BFCM is the opportune moment to stand out with a top-tier post-purchase experience that'll boost shopper satisfaction and win repeat customers for your brand. One of the best ways to turn this surge in returns into an opportunity to recapture revenue, drive upsells, and build customer loyalty is to embrace post-purchase personalization and automation, including AI-powered product recommendations that turn spur-of-the-moment returns into exchanges (and revenue).

It's surprisingly easy to get started (here's a jump link if you're already on board).
But first, let's explore the impact of personalization on conversions and uncover its potential for turning BFCM returns into exchanges and repeat purchases.
The impact of personalization on your BFCM return strategy
It's no secret that personalized buying experiences boost customer satisfaction and increase conversions. A lot of research, including our own, shows not only that consumers expect personalized experiences but also that it has a direct impact on your bottom line:
Studies show that 56% of consumers will buy again from a brand after a personalized shopping experience.
75% of customers agree that a brand must use personalization to make it easier for them to navigate products.
Brands that excel in personalization are nearly twice as likely to exceed their revenue goals as those that don't.
Quality personalization has led AfterShip customers to see a lift in conversion rate of 5-10% and up to 40 times boost in ROI.
Today, personalization isn't just about manually tailoring a single experience for a single buyer; it's about continuously learning and adapting to provide the most effective shopping experience possible.
For example, AfterShip Returns, our return management solution, is powered by an AI-driven personalization engine, showing consumers highly relevant exchange recommendations when they request a return. While an increase in BFCM-related returns is inevitable—someone panic buying four Christmas sweaters in four different sizes isn't likely to keep all of them—you can still turn more of these interactions into exchanges by using your returns flow as a new sales touchpoint.
---
How to drive more BFCM exchanges through automation and personalization
Here's a two-step solution to create a seamless post-purchase experience for buyers already burned out by the BFCM shopping frenzy.
First, automate as much as possible.
A healthy exchange strategy begins by ensuring you're prepared to meet customer needs for returns in as frictionless a fashion as possible.

During high-stress periods like BFCM, after all, shoppers not only have multiple items they want to return but also feel purchase fatigue. They want the lowest number of touch points with retailers and will not opt for an exchange if they don't see items that immediately pique their interest. They crave fast, frictionless interactions, significantly impacted by how your returns are managed.
On the retailer's side, you're going to be busy too. With the holiday shopping season just beginning, it's not cost-effective for your team to dedicate all their time to processing returns—you must focus on preparing for the next campaign.

A return management solution like AfterShip Returns offers a flexible platform for automating the returns process and creating a delightful experience for your customers. (As discussed below, it also opens up opportunities for AI-powered product recommendations that will turn more of those returns into exchanges.)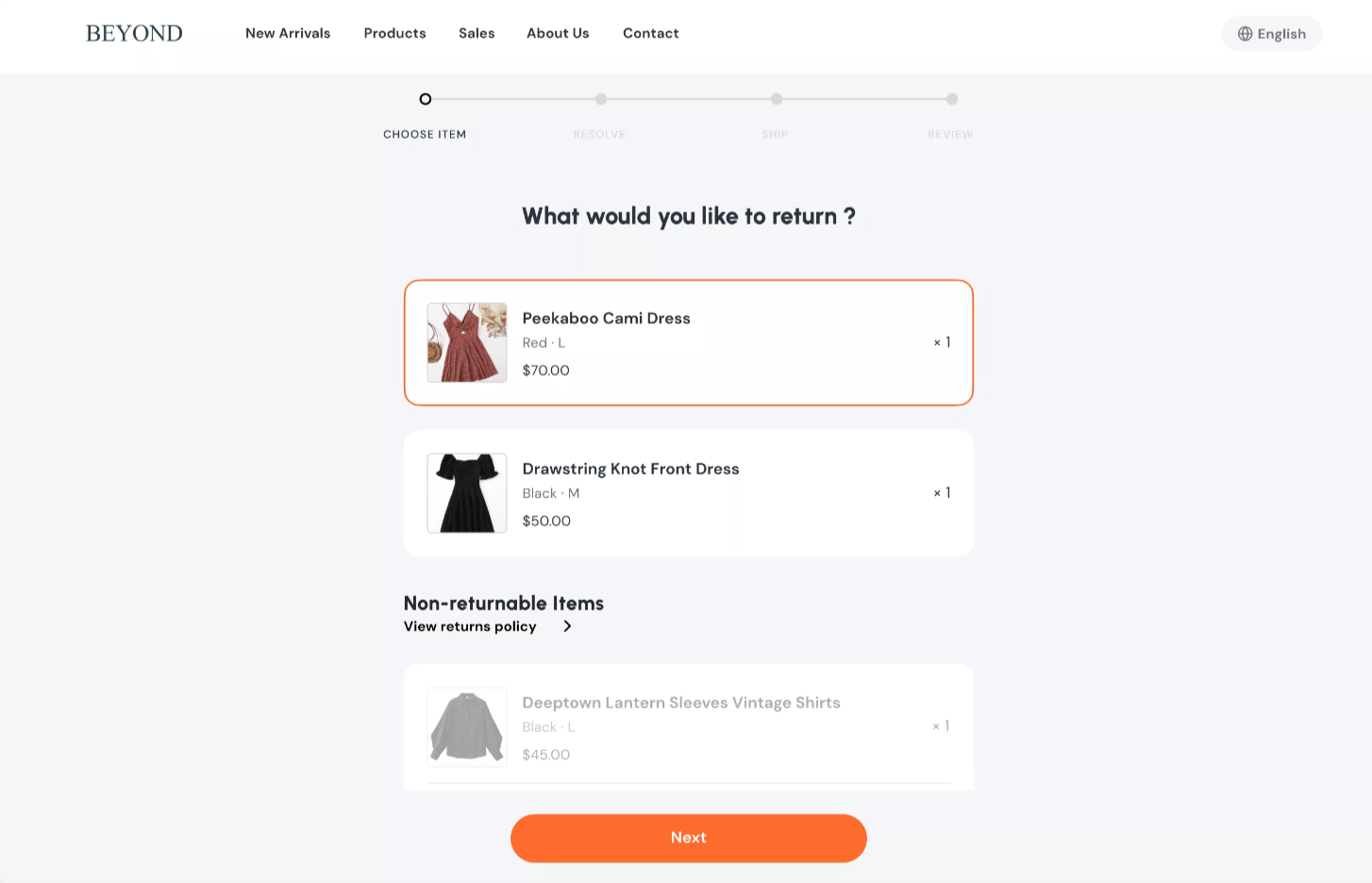 The automated solution lets customers request returns and exchanges through a branded, self-service portal. As a retailer, you can eliminate manual request reviews and approvals, being able to set up rule-based workflows that perform eligibility blocking and resolutions automatically.
When you set up AfterShip's automation rules, the platform will:
Resolve requests automatically.
Display relevant exchange recommendations.
Create exchange orders based on the return status.
Restock automatically once the returned item is marked received.
Send proactive updates of returns status to your customers.
After implementing AfterShip Returns, for example, shoe retailer Marc Nolan saw a decrease of 97% in the time spent on handling returns. Director of Operations Nikolas Callas describes the manual process before automation as a daily struggle: "We were working in the dark with our customers, hoping they received the shoes that they wanted in exchange or got their money back on time. It was very rough."

Time regained definitely has a significant impact on ROI. Crucially, though, implementing AfterShip Return also doubled the number of exchanges Marc Nolan saw resulting from returns, helping them recapture lost revenue in a way the manual process wouldn't allow.
Before the company adopted automated return management, 75% of their returns turned into refunds, with only 25% turning into an exchange. Now, around 50% of their returns become refunds, 1% of refunds to store credit, and 49% are exchanged for other items. How'd they do it? By following the next step.
Next, personalize exchange recommendations for revenue recapture.
When a customer begins to submit a return request, this is the crucial moment when a hyper-relevant product recommendation can change their intent. Even if they always intended to return the product, you've already successfully converted them once.
If you've adopted an automated returns portal as we recommended above, you can incorporate adaptive exchange recommendations in your return flow without writing a single line of code.
AfterShip Returns is powered by AfterShip Personalization, enabling personalized product recommendations during return requests that are based on sophisticated machine learning algorithms. This unique, adaptive solution enables brands like yours to offer personalized exchange suggestions—based on a variety of options:
Similar products: Products that are visually or semantically similar.
Bestsellers: Top-selling products ranked by sale volume in the last 30 days. (And if the shopper has already purchased the top-selling items, then it will switch to most-viewed.)
New arrivals: Products that have recently been added to the store.
Frequently bought together: Items recommended based on other shopper behavior.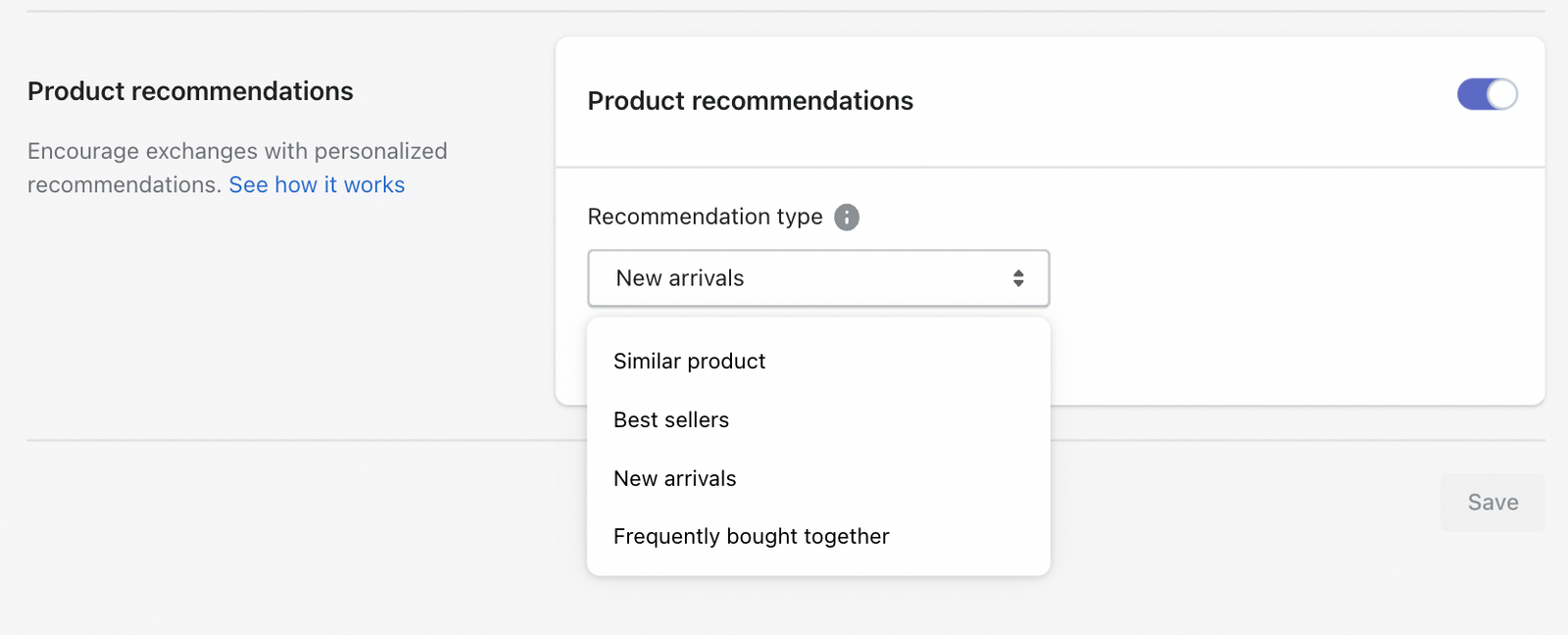 All you need is to choose the recommendation type, and AfterShip will display personalized suggestions to the buyer when they enter the return request. Different types of exchange recommendations work better for different products and merchants, so it's best to experiment with what best fits your offerings as well as your customer needs.
Bonus tip: Use AfterShip Returns to make exchanges even easier.
Another source of friction for fatigued customers during a return flow is needlessly complicated payment processing. Why ask them to reach for their credit card if they don't need to? If the exchanged item costs more than the return, AfterShip Returns makes additional payment easy, connecting directly to Shopify or Stripe. AfterShip even offers instant exchanges that process exchanges quickly while holding credit card information for insurance.

Incentivizing exchanges over refunds, like additional free shipping or a pre-discount credit, will increase the likelihood of an exchange. For instance, in AfterShip Returns you can enable pre-discount credit that applies the discount amount of the original purchase to the exchange item. (If a BFCM buyer was initially motivated by a deep discount, this is a powerful reminder that it's still available to them if they choose an exchange.)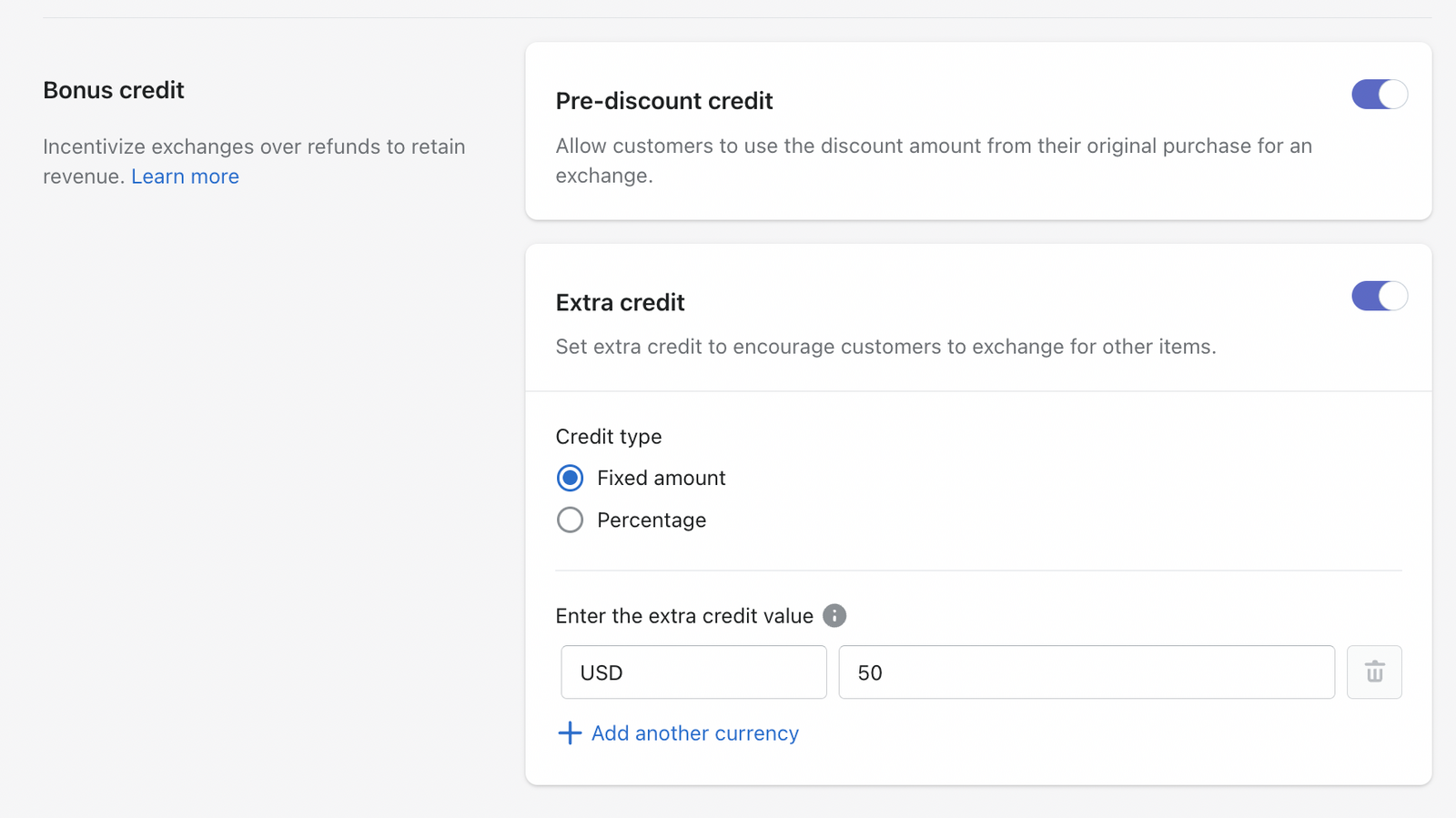 Turn BFCM returns into exchanges with AfterShip
You don't have to fear drowning in BFCM returns when you have a personalized post-purchase strategy.
In fact, like the team at Marc Nolan, you can turn many of those returns into exchanges. AfterShip Returns, with its AI-powered personalization engine and return management platform, will help you make the most out of the post-BFCM return period.
If you're already using AfterShip Returns, the good news is you can get set up today. Here's how you set up the exchange flow:
Activate the exchange flow in 'Refunds and exchanges' in the AfterShip Returns admin.
Configure your flow by choosing the checkout method, specifying the exchange shipping rates, and controlling the fulfillment status.
Enable bonus credits if applicable.
Choose the algorithm that the platform will use to provide exchange recommendations. Available options are similar products, best sellers, new arrivals, and frequently bought together.
You're all set! (We said it was easy, and we meant it!)
Book a demo today to learn how AfterShip's Return creates next-level post-purchase experiences even during the year's busiest season.