The last mile, when not optimized, can lead to higher staff workloads, longer turnaround times, and higher operational costs. Would you like to maximize your resources, and improve your lead times and on-time rates? Then it's important that you prioritize and optimize your last-mile delivery.
What is last-mile delivery?
Also known as the final mile, last-mile delivery refers to the last phase of your supply chain, or the final leg of a shipment's path. It includes everything between the processes of moving orders from their source location (e.g., warehouse), and putting them in the hands of your customers.

These are the general steps taken through the final mile:

1. Your customer pays for an order that's confirmed by your online system
2. If not already on hand, products are sent by your supplier(s) to your distribution center for dispatch
3. You allocate the orders to your shipping carriers
4. Orders are registered and picked up by their respective carrier agents
5. The agent/courier/carrier receives proof of delivery from the customer
What is the last-mile problem?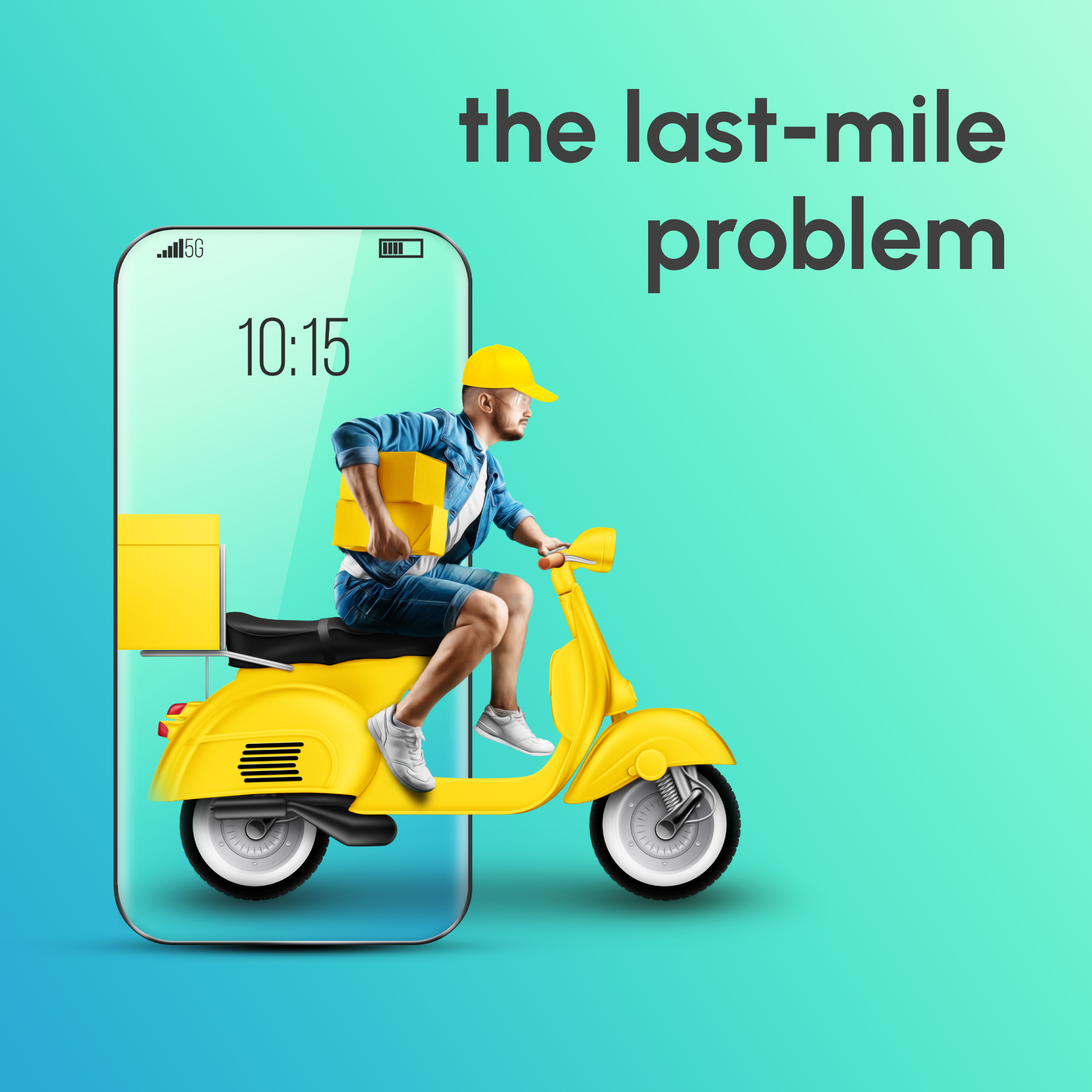 In today's competitive eCommerce market, customers expect shipping to be fast and free. A reliable and consistent service, which is complimentary and speedy, contributes to higher loyalty, retention, and repurchase rates. Hence, if there were to be a final mile problem, it would be inefficiency. It would be a delivery system that lacks optimization, and it would be costly to run. Optimizing a system would be to enable deliveries to be completed in the shortest amount of time.
How does the last-mile problem come about?
It arises when your business chooses to bear the costs of free shipping, while you deal with dispersed routes and low drop sizes. A low drop size refers to just one or two orders being delivered in a general location. This issue is most apparent for businesses that ship to many suburban areas.

The last mile problem may also come from dealing with an overwhelming number of metropolitan deliveries. In the well-connected, concrete jungles, traffic congestion can bring delays, and eventually, lost time and revenue.

The final mile becomes more complex as your business grows and scales up. You may have various delivery operators, pickup locations, and delivery destinations. Your system could comprise owned delivery fleets and autonomous shipping providers, pickups at distribution centers and physical shops, and deliveries to homes, offices, and parcel stations. The different options and elements create room for more inefficiency, which can lead to fewer happy customers, lower customer loyalty, and a potential loss of future business.
Why should you care about the final mile?
Studies show that last-mile fulfillment is the most costly and time-consuming part of the shipping process. It accounts for 53% of the total cost of delivery and is therefore the first segment of the process that should be scrutinized for optimization. This could mean looking for ways to integrate new and advanced technologies.

Also, with more customers seeing free shipping as a given, your business will want to shift toward shouldering this expense, if this isn't already the case. This means that if cost efficiency isn't prioritized, you're allowing your final mile to take up resources and eat into your profits. If optimization isn't applied, your revenue could decrease by 26% in a 3-year period.
How to reduce the cost of final-mile delivery?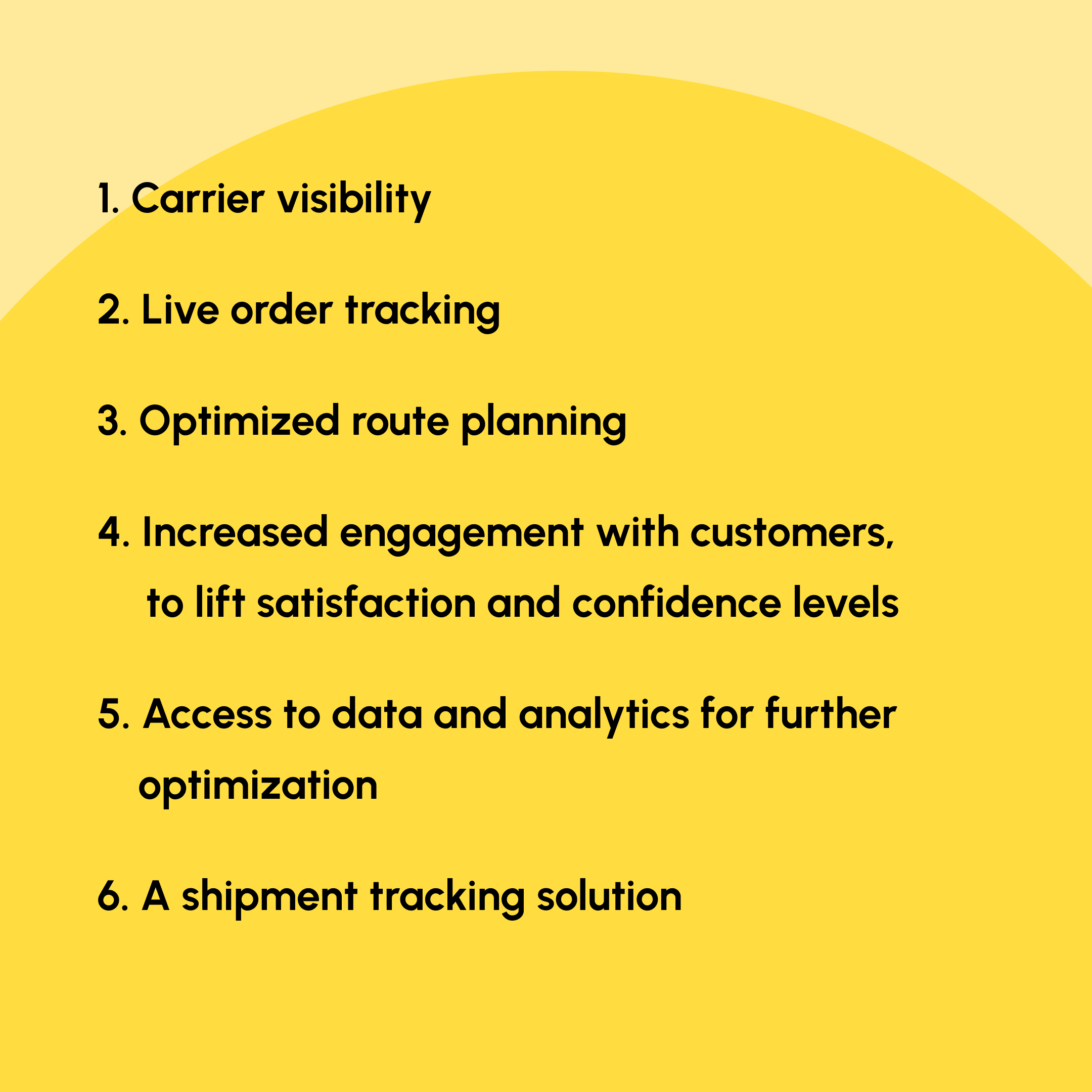 Your business should be equipped with the following 6 functions.
i) Carrier visibility
ii) Live order tracking
iii) Optimized route planning
Carrier visibility and live order tracking ensure that you're on top of routing activity, and can see the performance of each carrier, along with the distribution paths taken. With this information, you can have a better master plan, listing and consolidating items, and allocating orders to their respective carriers, and an easier way toward route optimization.
iv) Increased engagement with customers, to lift satisfaction and confidence levels
v) Access to data and analytics for further optimization
With carrier visibility, live order tracking, and optimized route planning, you're armed with detailed information on your last mile, which you can share with your customers. This communication is an opportunity for practical and strategic engagement, such as providing updates and delivery estimates at key stages. These points of contact include 'dispatch from warehouse,' 'package being picked up by carrier,' and so on. As your customers are kept informed of the status, location, and timing of their deliveries, their satisfaction and confidence levels, and loyalty to your brand, go up. This translates to lesser returns, and more saved time and costs.
vi) A shipment tracking solution
Integrating advanced solutions, such as AfterShip, with your business, is a quick and simple way to access the above-mentioned data and analytics in a single portal. The world-class tracking tool is prepped for integration with all major eCommerce platforms.

AfterShip's dashboard displays how well everything is going and offers actionable insights into your shipping performance and last mile. The web and mobile adaptive tracking solution is seamlessly synced with over 1,000 carriers worldwide, to enable evaluation and optimization of your delivery rate, exception rate, delivery time, and courier performance. You'll be able to understand where longer transits are occurring, and when extra days are accumulating, to optimize your last-mile delivery and reduce holding costs. And quite importantly, a solution like AfterShip can scale up and grow with your business, allowing continuous optimization of your delivery process.
Book a demo now to find out more.