Fulfillment Wednesday today will tell you how to setup your printer, and what label size and format you should choose when printing electronic shipping labels (i.e. online labels) with thermal printers and desktop printers.
Label paper sizes & Printer Type
In general there are** 2 different paper sizes** for shipping labels:
| Paper Size | Printer Type | Courier |
| --- | --- | --- |
| 4" x 6" | Thermal printer | UPS, DHL, FedEx, USPS, Royal Mail |
| 8" x 11.5" (~A4) | Laser or inkjet printer | All couriers |
Basically 4x6 paper size is used when printing labels with thermal printers. Unlike normal desktop printers using normal A4 papers, thermal printers are using heat-sensitive sticker paper which is faster in printing and allows you to stick the label on the package directly. And do note that some couriers (e.g. tnt, Hong Kong post) do NOT support 4x6 label size, i.e. you have to print it on a 8x11.5 A4 paper. And of course, an A4 paper can cover a label with size of 4" x 6".
4x6 label example (FedEx)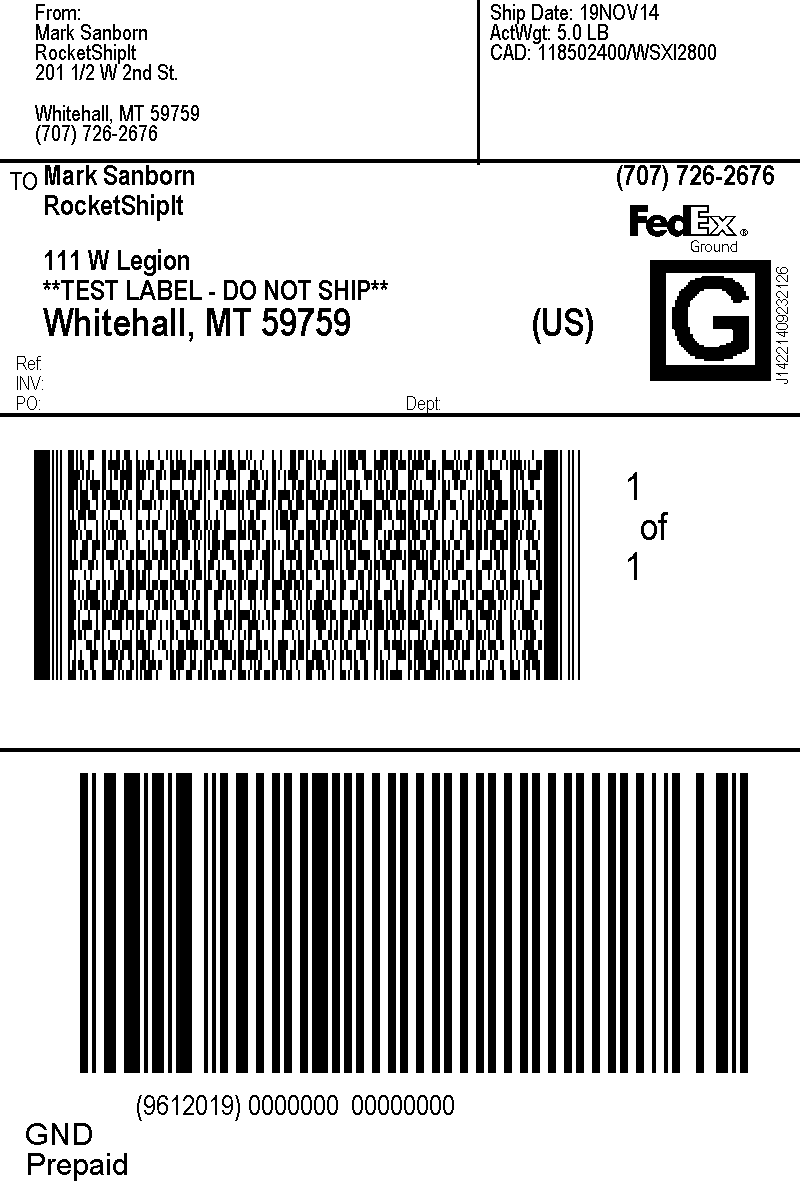 Label Format
In terms of choose the label format, I recommend PDF for a few reasons. Reasons:
Most couriers only provide PDF format. Period.
PDF requires minimal settings before printing
PDF can be printed via all printer types
Of course if you want to include a label into your invoice / packing slip, then PNG could be the idea. I will suggest you to say goodbye to EPL, ZPL and ZPLII as I dont see any new couriers are returning these format to users.
| Format | Printer Type | Pros | Cons | Popularity |
| --- | --- | --- | --- | --- |
| PDF | Laser, inkjet or thermal printer | Direct printing, good quality, no need to make further settings | You cannot edit the label | ✮✮✮ |
| PNG | Laser, inkjet or thermal printer | Allow you to customize your label, e.g. combined with packing slip | Quality may not be ideal | ✮✮ |
| EPL, ZPL, ZPLII | Thermal printer | Fastest with high quality | Need some programming work to decode before printing out | ✮ |
Printer choices - Laser, inkjet or thermal printer
If you're just shipping a low volume, simply use a laser or injet printer. For injet printer, just watch out the label quality and try to scan the barcode (using some mobile apps) before shipping. When you have certain high volume and make sure the courier you are using support 4x6 label size, then you should seriously consider a thermal printer.
| | Pros | Cons | Cost | Popular Model / Brand |
| --- | --- | --- | --- | --- |
| Laser | Higher quality than injet, fits all couriers | Normal paper does not have sticker function like thermal printer | $100-$500 | HP, Brother, Canon, Epson, Xerox, OKI |
| Injet | Cheap and usually you have one at home | Low quality, slowwwwwww | $50-$100 | HP, Canon, Epson |
| Thermal | Fast printing. Peel and stick. | Not all couriers support | $300 to $400 (new), $150 (Refurbished) | Zebra LP 2844, Zebra ZP 450, DYMO LabelWriter 4XL |