Black Friday and Cyber Monday (BFCM) are an opportune time for online retailers to multiply their sales and increase revenue, with customers waiting all year long to grab mouth-watering deals. However, if you don't have an efficient returns process and policy in place, it could be a stressful time for you and your business.
Don't worry, we've got you covered. This article unboxes some surefire tips that can turn your eCommerce returns into second-chance sales. Stay tuned.
Surefire tips to stay on top of Black Friday and Cyber Monday returns
eCommerce returns are inevitable. But you can manage them and actually turn them into new business opportunities with smart and easy return rules. Let's take a deep dive into the 5 best tips that can improve your BFCM returns this season.
Save time with automated returns
Customer satisfaction is the key to success in any eCommerce business, and automated returns can boost customer satisfaction by making the process faster and easier for both you and your customers.
Automating your returns process can benefit your business in many ways, such as:
Speeding up the returns process
Reducing costs associated with processing returns
Eliminating the need for paper return labels
No manual errors resulting in increased accuracy
A quick and effortless return process increasing customer satisfaction
Reducing WISMO (where is my order) queries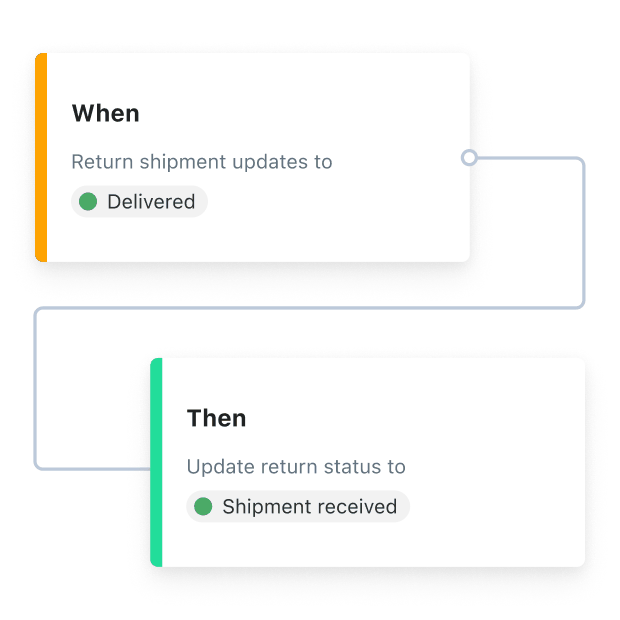 AfterShip Returns Center lets you manage product returns and exchanges more efficiently with advanced automation rules that significantly reduce the time it takes to process returns. You can easily reduce the overall cost of returns and optimize delivery time by auto-updating the RMA status once the shipment is delivered.
Moreover, you can avoid unnecessary returns with smart eligibility rules for:
Returns window
Non-returnable items
Eligible returns per order
Recapture revenue from returns
Don't let product returns eat into your online profits. How you choose to handle returns can have a significant impact on your bottom line as well as on relationships with your customers. If handled efficiently, returns can be a source of revenue, adding as much as five percent to total sales.
You can employ smart strategies to recapture revenue from product returns. Try these:
Turn refunds into exchanges
Let your customers indulge in exchanges by suggesting to them the best alternatives of the products they intend to return. Perhaps they are looking for a different style, color, or size of the same product and can find the ideal replacements quickly with your effortless exchanges.
Extend the return window for exchanges
Though 80% of the returns happen within 14 days, the return window of most eCommerce brands is 30 days. You can play smart here by extending the return window for exchanges to 30-45 days and keeping the time window for refunds to 15-20 days. This concession gives your customers the impression that you value their loyalty and want them to have sufficient time to pick the right product.
Offer incentives on exchanges
The best way to persuade your customers to prefer an exchange over a refund is through offers, discounts, and coupons. Encourage your customers to choose exchanges over refunds by offering them lucrative incentives and turning your losses into new business opportunities.
Offer free shipping on exchanges
Offering free shipping on exchanges is another great way to encourage customers to eschew refunds. You can play smart here too. Offer free shipping only for exchanges and charge a small shipping fee if customers opt for refunds. The psychology of free shipping works like a charm.
With AfterShip Returns Center's exceptional refund and exchange capabilities, you can leverage real-time returns data to optimize every stage in the return lifecycle and convert every return into a new business opportunity to drive profits.
Improve your return policy
Product returns are detrimental to your business. However, restricting product returns or having a strict return policy wouldn't save you money in the long run. The nature of your return policy can significantly impact your customers' shopping behaviors. Ultimately, it boils down to making your customers' lives easy with a simple, straightforward, and cost-effective return policy.
Generally, better deals and discounts during BFCM lead to more sales, and more sales mean more product returns. But retailers can reduce these returns or instead turn them into potential sales with smart return rules. Here's how you can improve your return policy:
Non-returnables and partial returns
Minimize return requests by including non-returnable and partial return rules in your return policy. Customers love transparency so let them know upfront which items are eligible for return and which are not. It not only helps in reducing unnecessary calls to your support team but also enhances customer experience.
It's wise to offer a flexible exchange option as part of your return policy in order to minimize returns and maximize your profits.
Go green with eco-friendly returns
Accepting returns is not easy for eCommerce businesses as it not only consumes a significant amount of time but also incurs costs—shipping costs, product damages, etc.
With green returns, you can cut down shipping costs, save on supply chain costs, reduce unwanted waste, and eliminate carbon emissions. And more importantly, you can reward your loyal customers and turn them into brand advocates.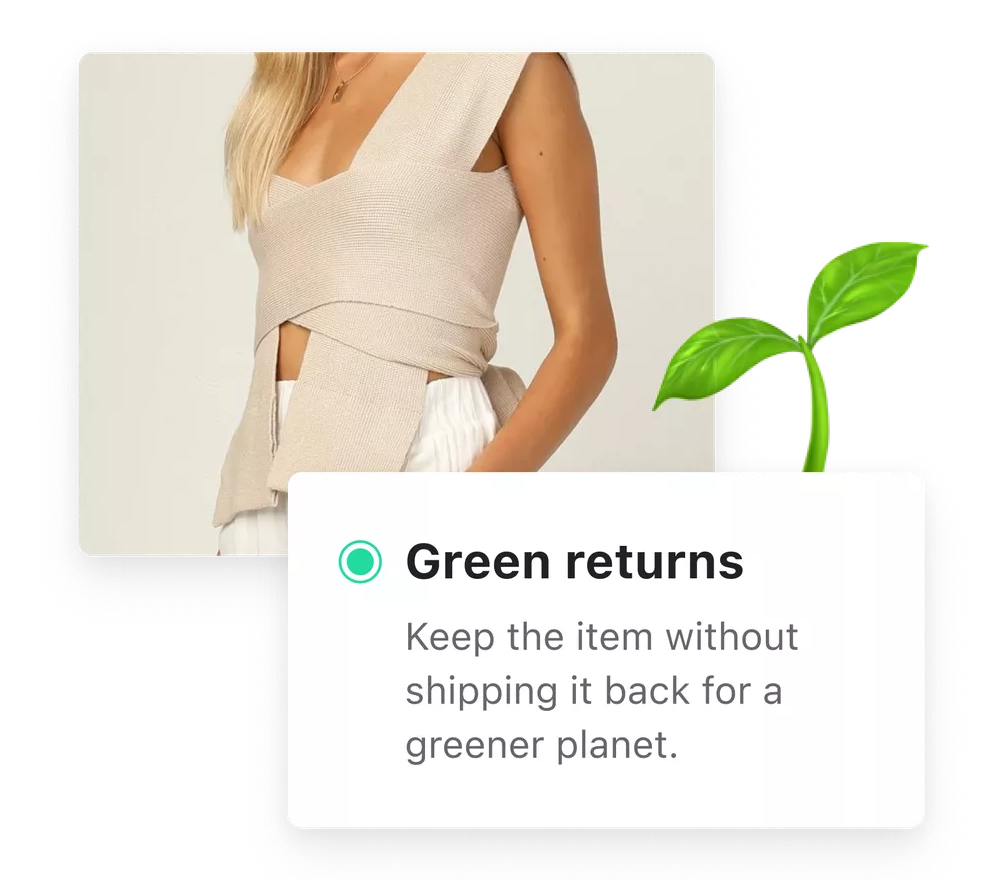 A green returns policy is more suited for non-durable and inexpensive products where return-less refunds bring in more benefits than harm, and the bonus is that it will significantly reduce the cost and environmental footprint of processing and handling returns.
AfterShip Returns Center proudly supports an eco-friendly returns policy that allows retailers to enable green returns wherein the customers can get refunds without the need to make a return.
Secure your inventory levels
In today's hyper-competitive marketplace, inventory management often takes a back seat but is a critical aspect of any eCommerce business.
Allocate some time for purchasing and production decisions and plan well in advance what products you will promote over BFCM so you can stock accordingly.
Additionally, restock the returned products as quickly as possible to get them back into circulation. You can also increase the exchange inventory so that customers don't get an out-of-stock message when they are looking to make an exchange.
AfterShip Returns Center helps you update your inventory directly using automation rules that can restock returned items when the shipment is marked received. Learn more about our auto-restock feature here.
A well-managed returns process will enable you to get ahead of the game and fetch more out of your BFCM campaigns. With so many advanced features available, you are sure to find an AfterShip Returns Center plan that meets your needs and budget.